Meet One & Only Locksmiths
One & Only Locksmiths are a 100% Australian family-owned business, founded by professional locksmiths with over 50 years experience in residential; commercial and emergency locksmith and security services.  We got together and started One & Only Locksmiths because we wanted to keep both businesses and residents safe with the highest level of professional service. We've implemented practices that keep our business mobile and dynamic because we believe that locksmithing and your security should be taken seriously. We are a young company that has established ties with strata, corporate, commercial and home-owners because of our central ethos: to continue striving to provide our clients with only the best.
Our passion bleeds into our work. We love what we do, and we show this to our customers through our competitive prices and the exceptional services we provide every single time. We don't trivialise – losing your keys, locking yourself out of your home or office, changing or repairing locks are just as important to us as ensuring effective CCTV coverage, implementing electronic access systems and setting up alarms. We ensure your security, and we are glad to help you as soon as possible. Your security is never a trifling matter. Every matter is an emergency for us because we know that's how it is for you.
Our Inspiration
As safe as Australia can be, that doesn't stop the necessity for proper security. Between 2018-2019, 231,000 homes were broken into, with 73% of those experiencing stolen property, and 49% experiencing property damage. As professionals working in the security industry, we fully understand the importance of proper security to ensure the safety of your family and property and assets.
This is what inspired One & Only Locksmiths. Established after our locksmiths have already garnered years of work experience, our locksmiths got together because we wished to be the premium provider for state-of-the-art security technologies introduced on the global sphere for our Australian clients. Locksmithing and security are evolving every day – and we wish to be that middle-man for our clients. We invest and innovate security systems for the best interests of our clients. It informs all of our practices to guarantee you Safe and Secure, knowing that you only received the very best.
Our Vision
One & Only Locksmiths is a company on a mission to invest and innovate alongside the changing security landscape. By staying young and dynamic, our vision is to lead and influence the Australian locksmith and security market with the best tools and technology that will get the job done faster, more reliably and more efficiently.
We're enterprising and progressive, and our expansions into Melbourne, Brisbane & Canberra from our original establishment in Sydney drives our enthusiasm to continue spreading our vision across Australia.
About One & Only Locksmiths
Your needs and safety are paramount, not us. All we provide are our exceptional customer services, professional knowledge and registered technicians at every interaction that we have with you. But first and foremost, we attend to you as soon as possible because we want to get you safe and secure as soon as possible.
Our philosophy is client-first – and alongside undoubted quality services, they have given us the privilege of working with a variety of returning clients.  We keep your interests first, and our Locksmiths are there to help you as soon as you make a phone call!
Our mobile workstations/vehicles are fitted with high-tech tools and equipment to get most jobs done on-site and immediately.
Rain, COVID19, hail, storm, sun or fog – we will be there whenever you need us.
Become our regular customers and receive discounts from us.
Certificates & Registrations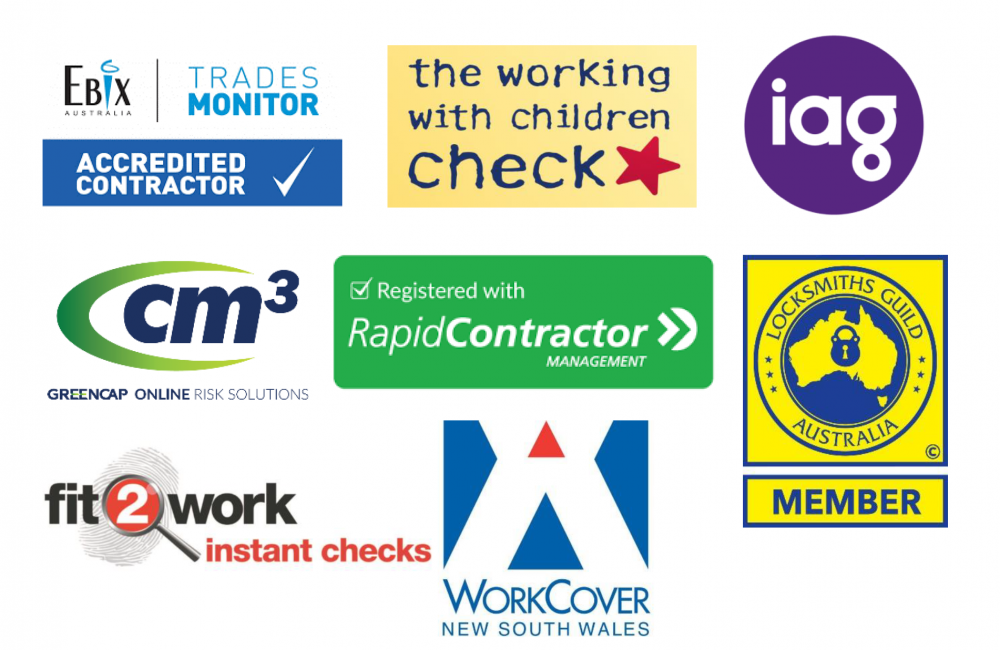 Our Corporate Clients